In the past two years, fitness trackers are more and more popular. It seems to gradually replace the traditional watch. At this time, many people have doubts if it is necessary to have a fitness tracker? Just for me, the fitness tracker cannot directly make you healthy, its main function is to play the role of supervision and encouragement. Some people want to go to exercise, but they forget it every day in a busy life. When they see the fitness tracker, they will be full of fighting spirit.
The product like fitness tracker is not expensive. Maybe only through a small device to quantify your daily exercise or sleep data, you can know how lazy you are, and how bad your sleep is. And now the function of the fitness tracker is more and more diverse.
Now, we recommend a fitness tracker with lots of excellent functions.
Recommended reason: First of all, it is a bright screen with a 0.96-inch OLED display, the words are bigger and clearer. The screen can be used for various operations.
1. Tracking of heart rate, blood pressure, steps, calories burnt, sleeping, distance and duration, goal setting with achievement celebration.
2. Stylish design – HD color screen with 4 different home screen styles, 12-hour or 24-hour time display format. Date, week, steps/heart rate all display on one home screen.
3. Smart notifications right on your wrist – The tracker will vibrate to alert your when there is an incoming phone call, SMS text and SNS messages including Facebook,Twitter, WhatsApp, Linkedin, Messenger.
4. IP68 Waterproof – You can wear it when swimming or diving (can't track swimming data).
5. Sedentary alert – It gives you gentle reminders to stay active throughout the day if you are stationary for too long.
6. Long battery life and no need a charging cable.
7. Remote camera shooting – It takes a photo remotely using your tracker.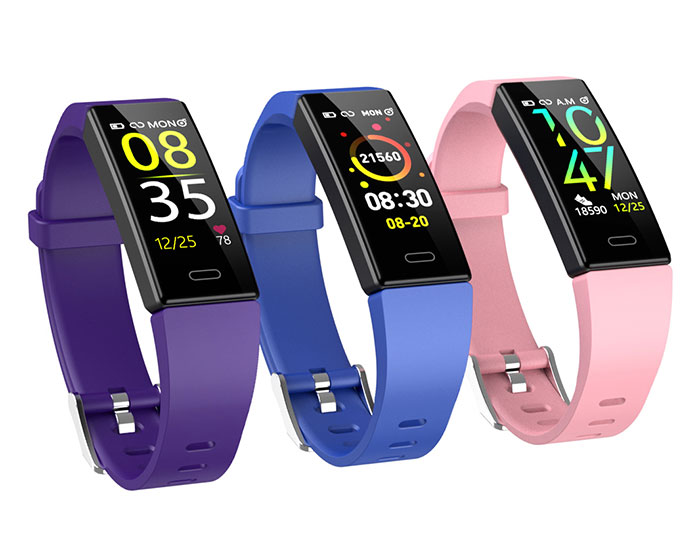 Very intimate, the wristband is designed with an elegant design and a food-grade TPU material. It feels very good when worn on the hand. The anti-lost bracelet design allows you to exercise without falling off and the colors are diversified.
The bracelet features a variety of sophisticated sensors that accurately and quickly detect the user?s body data, along with advanced running algorithms, and support for automatic recognition of sports patterns, helping users to develop more scientific exercise plans and avoid blind fitness. The precision workmanship makes the bracelet have excellent waterproof performance, and there is no fear of sweating during exercise.
The bracelet is able to record the user?s physical data and sleep quality around the clock, while supporting Bluetooth connectivity technology, can be connected to the mobile phone APP, allowing users to visually view the body?s data and daily exercise.
If you have an interest in purchasing one, you can go to our website directly.