Fitness trackers, as smart devices, which play an important role in daily life. A fitness tracker is a perfect way to monitor your daily activity from different aspects.
Every year, a new crop of more stylish, more powerful and more feature-packed fitness trackers with the promise of helping you live a more active, healthier lifestyle. A basic fitness tracker can record steps, calories consumed by exercises and walking distance. A better fitness tracker can also analyze and record sleeping duration and quality, monitor the heart rate data and support more exercises.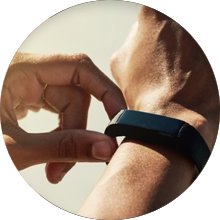 A very important question to ask yourself before choosing a fitness tracker is the type of form factor you want. Fitness trackers are usually bracelets, watches, or clip-on. Most clip-on devices these days can also be worn on the wrist, but not vice versa. Bracelets and watches are hard to lose. Clip-on can fall off or get thrown into the wash.
If you want a fitness tracker, which is less than 40 dollars with lots of functions and daily life waterproof. You can go on reading this article.
Today, I want to recommend a fashionable fitness tracker with more functions. This kind of fitness tracker is different from most fitness trackers in the market.
It is IP68 waterproof, you can wear it in the daily, don?t need to take it off in the rains and shower. Three different types of straps can fit different occasions and different moods. If you attend a business meeting, the black and gray color straps can make you more formal. If you have a trip, you can wear a black and green color strap.
Apart from these obvious features, it has lots of functional advantages. It doesn?t only track walking, it also tracks more than 13 sports modes. Call and SNS alert are very helpful in informing you when you are working.
Below is the more detailed information.
Key Features
1. Tracking of heart rate, blood pressure, steps, calories burnt, sleeping, distance and duration, goal setting with achievement celebration.
2. Stylish design – HD color screen with 4 different home screen styles, 12-hour or 24-hour time display format. Date, week, steps/heart rate all display on one home screen.
3. Smart notifications right on your wrist – The tracker will vibrate to alert your when there is an incoming phone call, SMS text and SNS messages including Facebook,Twitter, WhatsApp, Linkedin, Messenger.
4. IP68 Waterproof – You can wear it when swimming or diving (can't track swimming data).
5. Sedentary alert – It gives you gentle reminders to stay active throughout the day if you are stationary for too long.
6. Long battery life and no need a charging cable.
7. Remote camera shooting – It takes a photo remotely using your tracker.
More Functions
? Heart rate monitoring and blood pressure monitoring
? Sleep monitoring
? GPS routes in App
? 20 alarms setting
? Wrist sense
? Physiological period reminder
? Stopwatch
? Countdown timer
? Find phone
? Disconnection alert
? Real-time tracking of heart rate, calories burnt, time, distance in sport mode
? Durable, replaceable and washable strap with secure clasp.
Without any further delay, you can buy right now.