Design
We were surprised at the UFO-shaped charging case, which is a much outstanding design than the competition. To charge the earbuds, all you'll need to do is put them back in the charging case, which is quite easy, we?re happy to see that micro USB charging is available on the case, allowing for faster charging and compatibility with today?s smartphone cables. The earbuds come in the smart rechargeable case and are held securely in place with magnets.
The earbuds themselves are quite slim, sitting closely to the ear weighing just 4.5 g each, they're comfortable in the ear and they look stunnin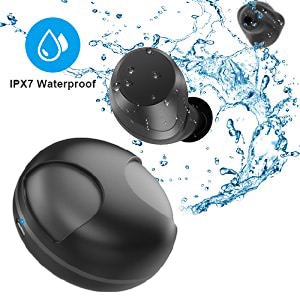 g.They come with the company?s FinFit wings, which help keep the earbuds steady during exercise. In terms of comfort, the fit of the W1 inspires confidence. Cleverly twisting into place, secured by the structure of your ear, they feel snug and reasonably comfortable. Two different sizes of non-slip rubber earbuds covers are supplied in the box, so it?s worth experimenting to find one that offers the best fit.
Control
If you're wondering how to control the music, each earbud houses a different set of controls.The buttons provide a good tactile feel and you can control everything from music and call. Double click the left earbud allows you to go to a previous track and a long press to turn down the volume. The right earbud houses a single button that can play/pause music, answer a call, double click to go to the next track, long press to reject a call or go turn up the volume.
Performance
Using the W1 is a pleasure. The earbuds automatically turn on when removed from the case, which not all truly wireless earbuds do. The earbuds also turn themselves off when placed back in the charging case – a huge benefit for folks who forget to turn off electronics when they're done using them. Wireless performance is excellent. The earbuds connected to our phone immediately and rarely stuttered. You can use one earbud at a time, though note that the right earbud acts as the master so use it when you want to take calls with a single earbud. And when you?re ready to go back to a stereo listening experience, taking the left earbud out of the charging case connects the two immediately.
Sound quality, similarly, is excellent – it's balanced with as slightly warm tilt. This means bass has good impact and extension. Highs are rolled off so music never sounds harsh.
The earbuds themselves last for 3 hours, we managed to exceed 3 hours a few times when listening to music at low to medium volume. That said, if 4 hours isn't enough time, the charging case is good for additional charges to give a totally 28 hours of listening. Charging the case is very fast, it takes about 2 hours to fully charge the case.
Bluetooth stability proved consistently good. W1 has positioned the Bluetooth antenna in the pointy bit of the headphone, and uses a new L/R simultaneous transmission system which reduces latency, handy if you?re watching TV on your smartphone. It also improves signal stability, lowers power consumption and lets you connect just one earbud if you need to. It adopts Bluetooth V5.0 chip which automatically pair when take out from the charging case, it truly implements faster transmission, connection speed and signal stabilization.
Finally, call quality is excellent, with our friends and family reporting that they didn?t even realize that we were wearing wireless earbuds. Audio comes in loud and clear, and our voice was able to be picked up outside without problem.